PART ONE
BY NAME BUT NOT BY NATURE
The inspiring scene pictured above happened here in Luxembourg in May 2009. It was a demonstration of steel workers, outside the shareholders meeting of the Luxembourg headquarters of the world's largest steel concern, ArcelorMittal. The management of ArcelorMittal had formally announced the destruction of 9,000 jobs worldwide, including 6,000 in Europe. Germany was to lose 750 jobs, France 1,400, Belgium 800, and the United States nearly 1,000 jobs. To add insult to injury (but to nobody's surprise), the management had also decided to pay out a dividend of $1.1 billion to shareholders despite a fall-off in production and mass redundancies.*
*One person was injured in the above scene: a policeman fired a "rubber bullet" at a cameraman. Now "rubber bullet" is what the bourgeois press called it; it was actually a plastic bullet filled with paint and lead of the same type that had just killed a student in the U.S. when the police fired it in a demonstration there. My favorite sentence from the bourgeois press on this story: "Luxembourg police have launched an investigation into the incident" (regarding the "rubber bullet"). Of course, when quoting the bourgeois press, you need lots of sarcastic emoticons, so here's one for that sentence about the police investigating itself:

Pretty cool for the "World's Safest City" (according to Mercer; Luxembourg City last year ranked 19 on their overall Quality of Living global city rankings and was number 1 in "personal safety", whatever that means)! But too bad none of the protestors were native Luxembourgers; instead, the around 1,500 steel workers had travelled by coach and train from Belgium and France to protest against the planned dismissals. No, Rosa Luxemburg would not be proud of the sleepy little country that bore a homophone of her name!* Luxembourg had to import 1500 workers from Belgium and France to ignite any action. Naturally, the Luxembourg trade unions "strongly condemn[ed] the violence" of that demonstration and didn't import any "frontaliers" (workers from across the border) to their own planned protest march the following weekend.
*Rosa never once mentioned the country of Luxembourg in her writings, not even in her articles on The National Question, which would have been the perfect place to mention a tiny little breakaway nationalistic country.
Luxembourg is the richest country in Europe per capita (though the capita is only half a million people) and probably one of the so-far least affected by the Great Financial Crisis (even though a large part of Luxembourg's economy is the financial sector, where I work, and my employer, Deutsche Börse,* has already announced very massive cost-cutting and layoffs of over 10% of us (though they haven't yet announced which employees) in what it cynically calls "Project Excellence", so we are all working under the hammer and nobody is popping champagne corks in the elevators or anything). Officially, Luxembourg City is the World's Safest City, according to world city livability statistics. (So by saying that, I've now gone commercial: Got milk?) Unofficially, it's also the World's Most Boring City, according to my wife, a native Luxembourger, and me, an American. The only exciting thing to happen here in the over 10 years I have lived here was the rowdy demonstration at the headquarters of ArcelorMittal, and they had to import steelworkers from France and Belgium for that.
*I'm hardly a racist by any means, but I can't think about my employers without thinking of these lines from the Tom Lehrer song** "MLF Lullaby":
"Once all the Germans were warlike and mean
But that couldn't happen again
We taught them a lesson in 1918
And they've hardly bothered us since then."
**Another Tom Lehrer song, "Who's Next?", actually mentions Luxembourg, and before I planned to move here it was about the only time I'd ever heard of it.
So it's a great place to raise your kids, but it's also the kind of place where you hope that your kids have an ounce of spirit so that as soon as they're old enough they will run not walk to the nearest exit so they can see the rest of the world! It's also apparently a great place to retire, certainly judging from my mother-in-law. She was a schoolteacher, which unlike in the U.S. in Luxembourg actually pays pretty well and has substantial retirement benefits, and now she gets about as much per month as I get for working my job (which admittedly is less than when I was staff attorney for a U.S. state court of appeals). Retirees in Luxembourg, having nothing better to do, often go into hobbies or politics big time. In many European countries, the extreme right-wing is a bunch of skinhead neo-Nazis marching with their jackboots and so on. Here in Luxembourg, they are retirees who remind me of Grandpa Simpson from The Simpsons, and even in the middle of their firey anti-immigrant speeches on TV I keep expecting them to start snoring loudly in the middle of a sentence. The Prime Minister, Old Junkface (I use nicknames for him, too.* His real name is Jean-Claude Juncker), is the longest-serving head of government in Europe, because Luxembourgers are too bored to vote for anybody else, so they have kept voting for him since the mid-1990s. (I'm not a citizen, so I can't vote here.)
*I can't help but give nicknames when I mention that Hope-Bomber, that Nobel Laureate Dalai Bama, and so I can hardly believe that even though I vented on him at great length in my previous posts, I used neither of those two nicknames, nor one of my favorite nicknames for him, which comes from a Michael Jackson song: "You've been hit by, you've been struck by, a Smooth Criminal." Peace activist Cindy Sheehan, who is my "friend" on Facebook** although of course I don't know her, says "If Bush is a war criminal, then so is Obama. If Obama isn't, then neither is Bush. We the people cannot have it both ways."
**Facebook is a platform for big business to do marketing research on millions of people without paying them, but the language of author Michael Dawson (The Consumer Trap) is SO much better: "cynically planned, BBM [big business marketing]-sponsored, wildly popular, narcissism-promoting social control operation", heh! My other beef with Facebook is that, for those who don't have ten quinzillion "friends", it's like Valentine's Day: it might be great if you're included among the people it's for, but if you're not it's a cruel reminder that you're left out in the cold.
Luxembourg politics can actually be surprisingly progressive sometimes though. Old Jerkoff, who is a member of the Christian Social People's Party (imagine a party being named that in the U.S.! Politicians there would stampede to join it so fast it would look like a Free Toupee sale was announced at the Republican and Democratic conventions), had announced that in this legislative year he would try to push through a gay marriage law! Since our best friends are a couple of lesbians who have been together for 20 years, we have been keeping on eye on this one. So far his party is actually doing it too, though of course it's only a "civil partnership" law rather than actual marriage. It'll probably get vetoed by the Grand Duke again though anyway. A couple years ago a euthanasia law passed the Luxembourg legislature but was vetoed by the Grand Duke (who is relatively young only because his superannuated father finally stepped down a few years ago). It caused a "firestorm" (by Luxembourg standards) of controversy, with newspapers and magazines and the TV occasionally asking whether an unelected Grand Duke should be able to veto the people's laws. Nobody except my wife and I asked why Luxembourg even HAS a Grand Duke at all and pointed out that constitutional monarchy is a silly anachronism. Asking that sort of question probably sounds radical here. Of course, I really AM a radical, but my wife isn't. Anyway, Old Beef Jerky announced that they'll also try again with the euthanasia law this year. Maybe after the brouhaha last time the Grand Duke won't feel like vetoing anything next time. But then again, Pope Benedict did give our Grand Duke Henri a "human rights" award for that veto! So we shall see what happens.
Luxembourg the country has had a long history but has never really been a significant player in world history,* in contrast to Rosa Luxemburg on both points. In the year 963 Count Seigfried founded a castle and established an estate in the triply misnamed Holy Roman Empire. I have a theory about why he founded it at that particular place: there was a hamburger stand there where Siegfried ate a "Deluxe Burger"; since he was enjoying this burger while he was talking, everybody thought he said "Luxembourg" and the name stuck. This story might also explain the motto of Luxembourg, a very loose translation of which is "Do you want fries with that?"
*Though it does make the world news when its nationals, like Viviane Reding, hypocritically criticize the actions of others, like the French mass deportations of Roma (when many European countries have been mass-deporting the Roma for the past two years with the implicit approval of the European Commission on which Reding sits), to keep the Talk Theater going and to distract the audience from the bigger picture of what is really going on. As Don Marquis said in "what the ants are saying": "while men talk they are making deserts all the time". Sarkozy's initial response to Reding was to threaten to deport the Roma to Luxembourg; Reding subsequently disavowed her criticisms. Though the Talk Theater can be entertaining sometimes. French Senator Phillipe Marini said it would be better if Luxembourg didn't exist, that he wished Napoleon III and Bismarck had moved to eliminate the Grand Duchy at its foundation in the 19th Century. Luxembourg Foreign Minister Jean Asselborn then accused Marini of sharing the same opinion as Hitler about Luxembourg, suggested he went to get lessons in tact from Iran's president Ahmadinejad, and added for good measure that at least Luxembourg hadn't voluntarily collaborated with the Nazis in World War II as France had done. Didn't their mothers ever tell them that if you don't have anything nice to say then don't say anything at all? (Then why all these long rambling posts? Good question.)
A better translation of "Mir wëlle bleiwen wat mir sin" is "We wish to remain what we are," and the actual story behind this is startlingly heroic and needs none of my bad jokes to liven it up. When the Nazi German armies started the campaign in the West in 1940, they poured through Luxembourg in their rush against France and overran it (Luxembourg, not France) in less than a day. They imposed martial law and started a vast campaign to indoctrinate and lure the Luxembourgers to come "Heim ins Reich" (home to the mother country) to make them believe that they were ethnic Germans. Expecting their propaganda campaign to be successful, the occupation authorities organized a census, which included seemingly innocuous questions about nationality, mother tongue and ethnicity. Resistance organisations were quick to recognise this as a thinly disguised attempt to incorporate Luxembourg into the Reich and mounted a massive underground awareness-raising campaign ("Dräimol Lëtzebuergesch" or "Three times Luxembourgish"), turning the census into a referendum, which was held on October 10, 1941. Early results were embarrassing to the Nazis: 97% declared their Luxembourgish identity, often writing "Mir wëlle bleiwen wat mir sin" on the census forms. Naturally, the regime immediately stopped counting all the votes in a decision that would make the U.S. Supreme Court in Bush v. Gore on 12/12* salivate with envy. I'd think October 10 should be a national holiday, instead of the actual National Day, June 23, which is supposed to be the Grand Duke's birthday but isn't really. Anyway, since the German military campaign in the West had ended in victory, the Nazis ignored the vote and nevertheless integrated Luxembourg into the Third Reich under the new and boring name of "Gau Moselland" or "Mosel country district" ruled by a high ranking Nazi official, the "Gauleiter," whose primary task was to "Germanize" the Luxembourg population. German law was imposed, the use of the Luxembourg native language forbidden, French-sounding names were converted, etc. (That last bit actually came up again in local news a few months ago: After the establishment of biometric passports, older Luxembourgers applying for passports got them with the Nazi-imposed German-sounding names even though they had been using their French-sounding names for decades! The new passports used the people's official legal names as listed in the General Register of Residents. Today's Luxembourg government sheepishly advised all affected applicants to register their French-sounding names in the civil status register.)
*December 12, 2000, the date of the Supreme Court's decision in Bush v. Gore, is my vote for which date future historians (assuming there will be any)** will point to for when the U.S. Republic had fallen. Interestingly, after the Roman Republic had fallen, most Romans and even the earlier emperors denied that it had done so, and even modern historians do not all agree on the date the Roman Republic had fallen. (Wikipedia: "The precise date in which the Roman Republic changed into the Roman Empire is a matter of interpretation, with the dates of Julius Caesar's appointment as perpetual dictator (44 BC), the Battle of Actium (September 2, 31 BC), and the date which the Roman Senate granted Octavian the title "Augustus" (January 16, 27 BC), being some of the common choices. This is a distinction chiefly made by modern historians and not by the Romans of the time, however. The early Julio-Claudian emperors maintained that the res publica still existed under the protection of their extraordinary powers and would eventually return to its republican form.")
**As I posted a while back, I figure there are still around 30 years before the "suddenly silence, total and absolute" moment in the dream sequence from the last episode of Carl Sagan's TV show "Cosmos". But we are getting inexorably closer, I think.
Anyway, for the following five centuries after 963, Luxembourg thrived as an independent feudal estate; for four centuries after that, Luxembourg was caught in a tug-of-war between all the neighboring countries. Finally with the defeat of Napoleon in 1815, Luxembourg became a Grand Duchy with formal autonomy, though its royal head was in "personal union" with the Netherlands (meaning the King of the Netherlands would always also be the Grand Duke of Luxembourg). In the process, Luxembourg's "vast" territory was getting whittled away bit by bit. When Belgium was created as a neutral zone between France and the Netherlands in 1830, Belgium got most of the remainder of Luxembourg as a province. The Treaty of London in 1839 confirmed both Luxembourg's status as a sovereign grand duchy in personal union to the king of the Netherlands and the cession of most of it to Belgium. The loss of most of its territory and markets caused economic problems and led to 20% of its people emigrating to the United States over the next half century, including the most famous guy Luxembourg ever produced, Hugo Gernsback, "The Father of Science Fiction" after whom the science fiction awards are named (the Hugo award is of course much more prestigious and meaningful than the Nobel Peace Prize), and born in my neighborhood of Luxembourg City, Bonnevoie. Luxembourg's "personal union" with the Netherlands ended in 1890 for an embarrassing reason: when the King and Grand Duke William III died leaving only a daughter, Wilhelmina, Luxembourg invoked "Salic Law", which states that you would rather slit your throat with a rusty razor blade than let a woman be on top, and so Wilhelmina became Queen of the Netherlands and her distant cousin Adolphe became Grand Duke of Luxembourg.
RED FLAG
Although Luxembourg's "personal union" with the Netherlands may be no more, there does still seem some sort of "flag union" that is alive and well! Here is the Luxembourg flag: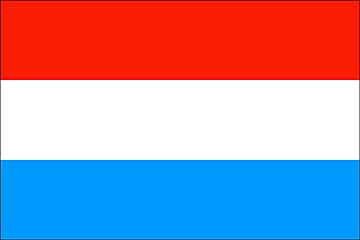 And here is the Netherlands flag: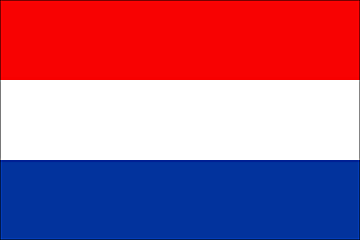 Now, you can probably tell the difference between these flags when you see them both side by side, but if you only saw one or the other, could you quickly and confidently tell which one it was? I probably couldn't.
Of course, European flags look confusingly alike anyway, because there are basically two flag plans: either 3 horizontal stripes or 3 vertical stripes. But at least different countries' flags are supposed to have different colors! So how to explain this "flag union"? Could it be some romantic, glorious explanation, that something like the following dialog occurred in the 19th century?
"Comrades, this meeting of the Revolutionary Luxembourgist Liberation Front is now in session."
"Hey, is that the Netherlands flag over there? Why are we flying that?"
"No, but it's close enough to fool the authorities! Look at that bottom stripe there. See, slightly different shade of blue!"
"If you say so."
"So if the Nazi stormtroopers come to raid us --"
"Isn't that a little bit anachronistic?"
"Don't interrupt me, I'm on a roll! So, when they come to raid us, we will just innocently point to the flag and say, You must have the wrong house, see, we are loyal and patriotic citizens of the Netherlands! That way, we will be able to carry out our subversive revolutionary activities right under their noses!"
"Very clever. Socialism or Barbarism!"
"Who's being anachronistic now?"
Unfortunately, I suspect that the real dialog was closer to the below:
"Hey Joe, wake up! We need a new flag!"
"Zzzzz. Hunh? What? New flag, eh? What was wrong with the old one?"
"Nothing, but we're independent now, so we need a different one!"
"Well, what is the country whose flag we used to have?"
"The Netherlands. But they're also called Holland. And their language is called Dutch. Except when the Belgians speak it, then it's called Flemish. Isn't that a little bit schizophrenic?"
"Never mind! Just take one of the stripes and make it a slightly different shade of the same color. Now I can land a fighter plane on an aircraft carrier and proclaim, wearing a giant codpiece, Mission Accomplished! But first, time for my nap. Zzzzz."
A few years ago, a movement started to replace the Luxembourg flag with a new one. Not, alas, a red revolutionary one that Rosa might have liked, but it's still an improvement. Here is the proposed new Luxembourg flag:
Well, you can't deny that it definitely looks cooler than the old one! Unfortunately, the only political party that supports it is the Alternative Democratic Reform Party, a right-wing demagogic pseudo-populist nationalist vaguely reminiscent of the "Tea Party" in the United States, which is responsible for disenfranchising me here!
There is now a pending law in the Luxembourg legislature to resolve this flag issue, this incessant and burning question (though not the flag-burning question), but it is the kind of compromise guaranteed to please nobody, not even people who take the "Who gives two-fifths of a shit, of the ten quinzillion issues that humans should be worried about right now who thinks this is number one on the list?" position: Outside Luxembourg, the old flag would continue to be the only official one, but inside Luxembourg, both the old and new flags would have equal official status. Mission Accomplished!
On the more important disenfranchisement issue, several years ago Luxembourg passed a new citizenship law that relaxed its citizenship requirements for resident foreigners, offering them dual citizenship and no longer requiring them to renounce their prior citizenship or, in initial draft, to even learn the Luxembourgish language that nobody else on Earth speaks anyway and even natives, all being multilingual, speak only to each other. That would have been a step in the right direction, I'd say, and would have let me vote in Luxembourg and European Union elections for the first time. The proposed law would make it easier for people who live here to become Luxembourg citizens without having to learn much of the Luxembourgish language and without having to give up their foreign citizenship. If that law had passed and if I had taken advantage of it, I'd no longer be a "LINO" (Luxembourger In Name Only) so I could vote in Luxembourgish and EU elections (why not, since I already live and pay taxes here!), I wouldn't have to renew my work permit and residence permit all the time, I could move freely within the EU and travel easily everywhere with our family waiting in the shorter "EU Citizen Only" lines at airports (a fresh point since we just got back from three summer vacations), etc. without always (in the Prexy Bush II years) having to explain to people that even though I'm American I didn't vote for The Farting Voltaire. (Actually, I always just said "him" and people knew who I meant; they probably didn't follow American political news closely enough to get the Farting Voltaire joke....) But the ADR successfully insisted that the new citizenship law require knowledge of the Luxembourgish language after all, which, since I am notoriously terrible at learning non-English languages anyway and since even my native Luxembourger wife says that there is no reason to learn a language spoken nowhere else on the planet, dashed all my dreams of applying for Luxembourg citizenship.
ROCK THE VOTE
Meanwhile, although we have only even visited the U.S. twice in over 10 years, not because of never getting around to it but because of a deliberate political conviction on my part of reluctance to visit it until it cleans up its government, and in fact I follow its political news very closely (even more closely than when I lived there), nevertheless, I still feel very much like an American and still feel strong affinity for its people. As a line from "Anthem," one of my favorite songs from CHESS: The Musical,* says, "I cross over borders but I'm still there now." And of course I would never want to give up my right as a U.S. citizen to vote in their elections by absentee ballot (not that it ever has an effect** worth the price of an intercontinental stamp, which in Luxembourg has just gone up again; "Stop Me Before I Vote Again!" "If Voting Could Change The System It Would Be Illegal!" etc.). So even the proposed Luxembourg legislation gave me pause when I heard that to benefit from that legislation, although you would not have to give up your current citizenship elsewhere, you WOULD have to give up the right to vote elsewhere! So in exchange for the right to vote against Bokassa (as a local newspaper refers to Luxembourg's prime minister, Juncker) and against the NAFTA-like EU constitution, I would have had to give up my right to vote against Prexy Bush and the Emperor Palpatine Brigade!
*The song works on several levels: although it's ostensibly about the singer's native country (Russia and its Stalinist leaders, or in my case, the U.S. and Farting Voltaire), it can also be about the entire earth, the game of chess, and the heroine of the musical, the singer's lady love, in an unhappy relationship with his insane-seeming chess opponent:
"No man, no madness
Though their sad power may prevail
Can possess, conquer, my country's heart
They rise to fail
"She is eternal
Long before nations' lines were drawn
When no flags flew, when no armies stood
My land was born
"And you ask me why I love her
Through wars, death and despair
She is the constant, we who don't care
And you wonder will I leave her - but how?
I cross over borders but I'm still there now
"How can I leave her?
Where would I start?
Let man's petty nations tear themselves apart
My land's only borders lie around my heart"
**I proudly voted for "third party" candidates for U.S. President in 1996, 2004, and 2008. But in 2000, I must offer to you a confession: after agonized thought, I finally decided to hold my nose and vote for Al Gore. I regretted it almost immediately and ever since. The next day after election day, the maps showed all the states either red or blue except for Oregon and Florida, which were gray pending the vote counts. But nobody cared about Oregon, since it had too few electoral votes to affect the national outcome no matter whether it eventually went red or blue. How humiliating (Oregon, as the last U.S. state in which I lived, is where I vote through absentee ballot now that I live in Europe), especially when you've spent months deciding whether to avoid "wasting" your vote by voting for the Democrat and possibly making a difference in the outcome, since it meant the vote was wasted anyway and so by not voting my conscience I REALLY wasted my vote! But no, instead, it was Florida that was the subject of a Simon and Garfunkel song ("Our nation turns its lonely eyes to you"). And even votes in the Joltin' Joe state didn't matter after 12/12, when the Supreme Court called off the recount of votes there. So, for the next 4 years, I was despondent that I had really wasted my vote after all and determined to never hold my nose and vote for the Democrat again! What a relief and a huge burden I could finally take off my shoulders in 2004 when I could finally vote for the Green, Cobb, instead of Kerry. Almost a religious cleansing of sin or something! Ralph Nader wasn't the Green Party candidate that year, and anyway, the Oregon Supreme Court took him off the ballot. I still have his book Unsafe At Any Speed on my bookshelves, even here in Luxembourg, though it's been a while since I've read it.*** But other books on my shelves that I've read more recently, while otherwise excellent, are marred by the same frustrating omission to embrace socialism, by Naomi Klein (isn't "disaster capitalism" redundant?) and Morris Berman (who spends the last part of "Dark Ages America" wishing he could think of an alternative to U.S.-style capitalism: if only somebody could invent some round thing that rolls and makes things go!) Oh well, I guess if Nader, Klein, and Berman had been openly socialist and anti-capitalist, they might not have sold so many books. Still, that just makes the rest of us all the more eager for books that don't pull their punches like that!
***And what about Nader's novel "Only the Super Rich Can Save Us" that came out last year? I haven't read it, but it sounds like a major turn for the even-worse to me. I doubt it has such yummy sentences as "This planet cannot for much longer sustain the daily use of hundreds of millions of 2-ton metal-and-plastic grocery fetchers, profitable monstrosities that spend 95 percent of their lives parked" (author Michael Dawson, whose forthcoming book, Courting Carmageddon: Capitalism, Transportation, and the Approaching Collapse of the United States, I have been eagerly awaiting for years).****
****Back in high school almost 30 years ago, we had a guest speaker one day, some right-wing military type who told the class all about how the Vietnam war was fought for a noble cause. Before his presentation, he wrote two numbers on the blackboard, both around 50,000, one higher than the other. Then, giving no explanation of what the numbers were, he launched into an inspirational speech that, if given today about Iraq, would surely have left Cindy Sheehan with a beatific look of joy as she breathed with satisfaction, "I understand now…." (NOT!) When he was done, he turned as if an afterthought to the two numbers he had been ignoring for almost an hour, and explained that the smaller of the two numbers was the number of Americans who died in the entire Vietnam war and the higher number was the number of Americans killed every year in automobile collisions. His clear implication was that, if the bigger number, the annual death toll from what I have ever since called "car-driving fascism", is no big deal, then clearly and obviously the Vietnam war is no big deal either. However, I drew the contrapositive conclusion: if the Vietnam war is a big deal, then clearly and obviously car-driving fascism is an even BIGGER deal! So how come nobody else said so? Now, 30 years later, I think that car-driving fascism is an even bigger deal than I thought then and that its annual death toll is just the tip of the iceberg, as the entire car-driving mentality in particular and capitalism in general is like a cancer at the heart of modern human civilization and sooner or later will have the same effect on it that cancer has on an individual body. (Isn't the cliché that people move to the right as they get older? Again, it's the opposite with me: the more you know, the further left you go.) So how come nobody else says so? Incidentally, George W. Bush was a great president. (NOT!)
Anyway, WHY SHOULDN'T foreigners be allowed to vote even for national themes as opposed to just world/international choices or local city subjects? As an expatriate who has been living in a foreign country for over 10 years, who is raising a family here, who is working here, who is paying taxes to the national government here, I am keenly interested in national themes both for my own sake and for my family's. So why shouldn't I be allowed to vote on them?
Similarly, I don't think there should be ANY age limit at all (though maybe some kind of simple test) - anybody who wants to (and passes the test) should be able to vote. The 1984 Oregon primary election was literally a couple weeks before I turned 18, so I was unable to vote in it. At that point I could have been voting for years if I'd been allowed to. There are so many long-term issues that primarily affect children that it is a scandal that under no circumstances are they allowed to have a say in them. Climate change, global warming, oil peak, growing national debt, etc. - on all these issues it is only the people who get the short-term benefits who are allowed to vote and never the people who will suffer the long-term consequences of today's decisions.
As for the argument that children are not competent enough to vote and that disasters would ensue if they voted, I think politicians like George W. Bush and Arnold Schwarzenegger are the ultimate rejoinder that should silence that argument forever. There is NO way that children voting could have picked a worse President than Prexy Bush or a worse Governor than Arnold.* As with the same argument that was leveled against blacks and women and people without property voting, so again with the argument leveled against children: expanding the franchise will not, and could not, make the quality of the votes any worse than it already is.
*Just think, if adolescents had been able to vote in the U.S. in 2000 or 2004, then maybe Gore or Kerry would have been in the White House instead of The Farting Voltaire! The world can heave a huge sigh of relief that that catastrophe was avoided. And Governor Schwarzenegger. Good thing the adults of California averted that outcome.
Same for the risk that parents would bring their 5-year-olds to the polls and tell them what to vote for: it's the same risk that husbands will bring their wives and tell them what to vote for. Who says that parents always have the right to tell their kids what to do, or to force their kids to vote for a particular person or party, or that the child's vote effectively belongs to his or her parents? A hundred years ago people were saying all that about husbands and wives; it's only relatively recently in the U.S. that married women were given certain legal rights and considered other than the effective property of their husbands. Along with allowing and encouraging children to think and vote for themselves there will of course need to be a re-thinking of such truisms and habits of thought regarding children. Would subtle changes in the law be needed to emancipate children from their parents? Bring 'em on!
Actually, there's an even shorter and simpler response to this in addition to what I've said before: SO WHAT? How would it be so terrible if parents did in effect get extra votes through their children? In fact, let's make it even more extreme. Say a father has 20 children and he sternly instructs them, "Today we will all go into the voting booth with me and we will all press the button that says A." As a result, candidate A gets 20 more votes than otherwise. SO WHAT? How would that outcome be so much worse than the present system? Arguably, if a parent has 20 children, then maybe his or her vote SHOULD count 21 times as much as a single adult with no children. Would the world really descend into chaos (even more than it is now) if that system were in place?
Setting any arbitrary age, 16, 17, 18, 14, or whatever, for anything, applicable to everybody, while ignoring the specifics and merits of each individual case and person, just in general seems like an arbitrary line drawn for no other reason than convenience's sake. It's also another case of "quantity quashes quality": the large number of, in this case, children makes it convenient or necessary to draw lines instead of individually assessing the quality of each one, in this case, the child's capability of voting. Worse, this convenience or necessity then extends to your level of thinking, such that you simply accept line-drawing in all cases as the default way to categorize things and make decisions.
Frankly, telling a child "You are not allowed to vote until you are age X, no matter what you think" sounds to me like telling a child "You are not allowed to think for yourself and decide for yourself your own religion, or to have no religion at all, until you are age X." Biologist Richard Dawkins (and author of "The God Delusion") often says that we shouldn't automatically force a religious label on children as if assuming they have no minds of their own. So why should we automatically force a political label (or political silence) on children as if assuming they have no minds of their own? If some individual children have their own minds about politics, they should be able to express them. Sure, many or most children are not ready to vote (my own 9-year-old daughter is not), but maybe that fact is at least as much an EFFECT of the voting age limit as it is a REASON for it? If my daughter were growing up in a place that encouraged children to express themselves politically, then for all I know, maybe she WOULD now be ready to vote, having cultivated an interest and awareness along those lines that in the real world she hasn't?
The argument that children should be banned from voting because there are already too many childish voters and to save the democratic model we need fewer of them sounds a little bit like, "If the scientific method is going to work at all, we need fewer ignorant, illogical, impulsive and totally self-interested scientists, not more. So let's ban all women from science."* I would say that maybe education and empowerment might be better tools to make the democratic model work than disenfranchisement.
*It's interesting to realize that what is today considered a joke to be laughed at rather than taken seriously was 100 years ago considered a sober conservative position to be taken very seriously indeed whether you agreed with it or not. It makes you wonder what sober conservative positions of today will be considered jokes 100 years from now (assuming human civilization survives, a pretty big caveat). Certainly "Global warming is a hoax", probably "A man should only be allowed to marry a woman", and possibly "Children should not be allowed to vote".
When I said "maybe some kind of simple test" above, I meant one that is very simple indeed, rather than difficult electoral competency exams or some minimum scholastic level. After all, what about people who don't know anything about the issues or politics or whatever would be on the exams and haven't attained the minimum degree either, but who feel strongly that they don't like the way things have been going under the current administration and that it's time for a change? Shouldn't such people be allowed to vote (presumably against the incumbents) too?
STITUTION: PRO OR CON
I was opposed to the proposed EU Constitution not because an early draft had cited Europe's "Christian heritage"* (which was watered down in the final version to something like "historical values" or something) but because it codified and enshrined the pro-corporation principles of "free trade". Remembering the beloved NAFTA ("North American Free Trade Agreement") and how it benefited corporations in both the U.S. and Mexico at the expense of workers in those countries, how could I support a European version? Not that I was allowed to vote in the Luxembourgish referendum on whether to adopt this Constitution or not. Luxembourg was I think the only country that insisted on having a referendum on this even after the Constitution had been shot down, so that Luxembourg could still symbolically show its support for the thing. In fact, the Luxembourgish legislature went ahead and passed Luxembourg's adoption of the Constitution even before the referendum! (But then they did it again after the referendum, so that makes the legislature's lack of concern for the voice of the people OK after all. For some reason, the Luxembourg legislature has to pass things twice, a "first reading" and a "second reading", which has always confused me. The American system of passing laws, where each house of Congress votes on something once and then the President signs it, would be simpler if it were followed, though a few years back a court held it doesn't have to be (something about a budget passed by the Senate and signed by Prexy Bush but not voted on by the House still being law).)
*Don't you just hate it when Christians appropriate democracy as a "Christian value" and imply (or state explicitly) that democracy is a hallmark of Christianity and is incompatible with any alternative to Christianity? Well, that's kind of how I feel when capitalists do the same thing with trade. It's private property and markets that are the hallmark of capitalism, not trade, which is of course equally a mark of socialism, which keeps trading but allocates its products (and controls its production) with popular choice rather than "enlightened self-interest" choices in the market. In a way, it's even worse with capitalism and trade because the very word "trade" suggests capitalism to the typical reader, who of course reads a sentence like "Hunters and craftsmen then traded with one another" and thinks marketplace and selfish exchanges, forcing socialists to use a different word like "sharing" (like what most people do within their own family) to get across the same idea without the market. For example, it is the United States's blockades and influence, rather than any Soviet ideology, that has limited Cuba's trade with other nations for 50 years. Indeed, the Soviet Union was Cuba's main trading partner so that the decade or so after the end of the Soviet Union, when Cuba was almost completely unable to trade anymore, is called the "Special Period" there. (And right now is the "Fire the Population of Luxembourg Period" there.)
One thing I'll add is that during the Luxembourg campaign our beloved Bokassa actually threatened to resign if Luxembourgers did not pass the referendum! He's so popular here that that was actually a powerful blackmail-type argument in support of voting yes on that EU Constitution referendum. Also I see now on Wikipedia that there is a photo of Bokassa meeting with Prexy Bush! Come on, I just ate lunch here!
As an American citizen now living in the country of Luxembourg, it is interesting to see the differences in how religion plays out in the two countries. Before moving to Luxembourg, I read the Luxembourg constitution and compared it with the constitution of the United States: while the latter has the First Amendment forbidding the government to establish religion, the former has clauses explicitly stating that the government officially establishes the national religion as Catholicism and endows the Catholic churches. As an atheist or anti-theist, this concerned me at first. Yet, now that I live here, it is refreshing to see how LITTLE significance religion plays here. No religious mottos, pledges, oaths, or money. Not only can an atheist be elected to public office without anyone raising an eyebrow, but the electorate would actually consider a politician silly, petty, and unelectable if she or he DID mention religion or God in a political speech! No politicians ever say "God bless Luxembourg."
When my Luxembourgish wife first saw my collection of books with such titles as "Why I Am Not A Christian," she did not react with the kind of (at least) mild shock that I would expect from many Americans, but with a "Who cares?" attitude that I would expect if my books had titles like "Why I Do Not Wear Black Socks": a wonder that anyone would spend time reading, let alone writing, books on such a trivial subject. Kind of refreshing, I think. Despite their constitutions, Luxembourg has less claim to being a theocracy than the United States does!
My wife was actually quite surprised when I told her that the U.S. Constitution did not cite God or Christianity or religious values or anything, and in fact contained a couple of clauses prohibiting discrimination on the basis of religion and religious tests. It is the practice within a country that matters more than what that country's Constitution says.
MONEY LAUNDERING
Luxembourg uses for money the Euro (a currency that still exists, at the time of this writing; and the President of the Euro Group is none other than Old Junkfood himself), which is "clean" of religious affirmations. We just came back from a vacation in the United States, where I hadn't visited in years, and so I had to get used to using money that said "In God We Trust" on it.* Why not allow people to cross off religious mottos from their money? And if Prexy Bush were on the money, why not allow (or encourage) people to cross him out? In general, why not encourage people to cross out, or to write in, anything they want, or anything you want, if a point needs to be made to the public? It has happened in some communities, for example, in which the economy and employment are dominated by a particular factory or something, that all the money paid to employees have red or special marks put on by the company, in order to send the message to all the people in the community of how much of their money comes from that company and so how important that company is to their economy. Mind you, I think that's an evil use of that power, bordering on coercion (basically telling people "See how much money you'd lose from your community if we decided to shut down or move away? So kow-tow to our every demand!"), but still, the power is an effective one and shouldn't be banned - don't kill the messenger - especially since people have no real say in what their money looks like besides this.
*We also recently returned from a vacation in London, where I saw that, rather than "In God We Trust," the Brits actually have Charles Darwin on some of their money! I think that is so cool! That's actually the best reason I have yet heard for why Britain is not part of the "Euro Zone".
In particular, only if there is an actual movement ("street heat") with people actually crossing out "In God We Trust" would courts and politicians take notice of the issue and maybe take some serious actions about whether it was legal to say that on the money in the first place. Without such an actual movement, it would just be an academic issue that courts and politicians would take as an abstract question, and it's not hard to guess what position they would (do) then take on it.
I myself used to cross out "In God We Trust" from my currency for a time when I lived in the U.S. Though now that it is Euros that come out of the cash machine, I no longer have to worry about it. And the ironic thing is that before I moved to Luxembourg, I read the Luxembourg Constitution and was alarmed at its several provisions about how Luxembourg was officially a Catholic country that established and supported and paid money to Catholic churches and so on, while the U.S. federal (and Alaska and Oregon and probably every other state) Constitutions have provisions against that sort of thing. And yet, it's the U.S. and not Luxembourg that puts religious affirmations on its money. Just goes to show the difference between "law in books" and "law in action".
The U.S. government putting "In God We Trust" on the money is over the line rather than a mere insult. Although changing the whole society to be more secular and less religious is not only more important than "In God We Trust" on the money but would also make removing it easier once it were accomplished, I think that the struggle to take it off the money, even if (maybe especially if) it is hard and pointless and meets much intractible resistance, could itself be a MEANS of making the society and the people in it be more conscious of such issues and become more secular and less religious. In other words, the struggle to remove that mere prop of the people and society could itself help the people and society bloom into one that wouldn't want, let alone need, that prop anymore. If that makes any sense....
BACK TO NATURE
Unlike the Soviet Union and Eastern Europe and so on that called themselves socialist who were chief polluters and exploiters of the environment, Marx himself had a great deal to say about environmental problems and was actually ahead of his time in this department, as John Bellamy Foster's book "Marx's Ecology: Materialism and Nature" shows at great length and detail. And not just in theory of how capitalism must always expand and exploit the environment but sometimes in specific examples, such as soil depletion. In the 19th century, the major capitalist powers kept seizing guano from all over the world and shipping it to fertilize their growing fields the soil of which was being depleted; at the same time, the major cities like London were being polluted by too much human waste which was spreading disease and death. Marx linked these two trends, showing that capitalism was breaking the ecological cycles of nutrients like sodium and potassium by massively growing crops in the rural areas and (the more important bit) shipping their products to be consumed in the urban areas, so that the waste products which should have been returned to the soil were instead polluting the cities, causing both soil depletion and urban waste accumulation. In the century and a half since, this capitalism-caused disparity between producing and consuming areas has grown by orders of magnitude, but the system is being "propped up" by increasingly sophisticated technological bandaids, intensive artificial fertilizers on the one hand and sanitary sewage treatment systems on the other hand. How long will those props keep improving to hold up the increasing weight of this rickety system that increasingly threatens to topple?
It's not James Lovelock's fault that New-Agers have taken his concept of "Gaia", that the entire planet Earth consists of systems that function to sustain each other and so in a sense can be considered "alive", and turned it into a trippy conscious Earth-mother diety. Of course, I don't think that Lovelock meant for a minute from the title of his book The Revenge of Gaia that Gaia is LITERALLY an entity that can be vengeful, and I don't mind that title for the book. After all, my number one all-time hero, Isaac Asimov, had a similar title for one of his last books (co-written by Frederik Pohl), Our Angry Earth, and they certainly didn't mean that literally even for a minute.
I was also heartened to see that Lovelock openly said in the book that his Gaia hypothesis as originally stated was wrong. Being able to openly say that is maybe at the heart of science at its best! Lovelock used to believe that Gaia was so robust that it could withstand the worst humans could do to it, denying, in Carl Sagan's phrase, that nature is "exquisitely sensitive to the depredations of man". But Lovelock's January 2006 article entitled "The Earth is about to catch a morbid fever that may last as long as 100,000 years", which came out just before the book, was certainly a retreat from that position, and his subsequent books are even more explicit about Lovelock's realization that he was wrong before. However, he still supports nuclear energy as he did before, and he still doesn't explain how "Gaia" could have arisen, given evolution and natural selection of life. Maybe "she" had a mommy and a daddy who loved each other very much?
Certainly systems on the earth do work together by physical natural laws to some extent (how much? To what end?), but the next question there is, "How did that happen?" How did it come about that a network of biological systems on the Earth happen to be self-regulating such that Gaia could be considered like a super-organism in its own right? (Did, say, Gaia descend from a long line of ancestor planets that had this property, while other potential ancestor planets lacked this property and so left fewer descendants?)
The panspermia hypothesis says that maybe life itself was seeded on the Earth from some other planet via a comet or asteroid impact, and this panspermia event might have seeded the Earth not only with the matrix for biological life itself but also the matrix for "Gaia", that is, the tendency for life to eventually assume the properties of a self-regulating superentity. Of course, such a speculation has the two hurdles of (1) just how did the comet's contents, or even its results and the early life on Earth, also contain the "essence" of Gaia that would not manifest itself for a long time afterward, and (2) just how is it that planets with "Gaia"-like self-regulation were more likely to send out these panspermia seeds than planets without that property? But it's still a nice speculation, and it's kind of like the "fecund universes" (or "cosmological natural selection") speculation of Lee Smolin*.
*Physicist, later author of The Trouble with Physics; I mentioned the latter in my last posts but not the former.
I could seriously believe that Gaia-type planetary self-regulation is an eventual product of, rather than inconsistent with, Darwinian evolution of life on the Earth itself. Somehow, the primary "goal" of the selfish gene of having as many descendants as possible is eventually effectuated by having the totality of life engage in the secondary "goal" of regulating the planet-wide climate and life cycles at least a bit.
Lee Smolin has speculated that the physical laws of the universe themselves evolved through "cosmological natural selection" among "fecund universes". The idea is that universes can produce "descendent" universes when black holes are formed, so that over many "generations" of universes, those universes with laws of physics that favor the formation of black holes become preponderant and those universes that do not form black holes become extinct. Those possible laws of physics that allow for the formation of black holes also happen to allow for the formation of galaxies, stars, planets, life, intelligence, and us. Smolin elaborates on this theory in his book The Life of the Cosmos. Philosopher Daniel Dennett's earlier book Darwin's Dangerous Idea noted this idea and cited Smolin's earlier article that set out that theory. Anyway, I actually quite like this theory (especially as an alternative to the "Because God designed it that way!" answer to the question of why this universe's physical laws are as they are rather than some other way), and so I am attracted to a similar theory of why Gaia works as it does. But theories (or hypotheses) these will have to remain as long as we only know of ONE universe and ONE planet with life (as Carl Sagan called it in the title of one of his Cosmos episodes: "One Voice in the Cosmic Fugue").