Half a million public sector workers are to lose their jobs as a result of the comprehensive review of government spending, official documents have disclosed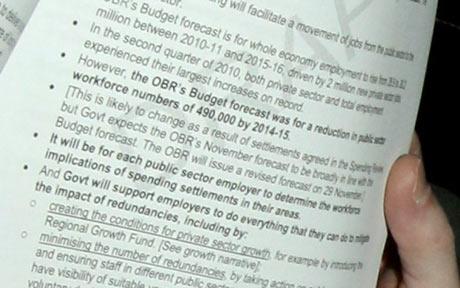 The documents showed that the independent Office for Budget Responsibility is likely to forecast 500,000 public sector workers will lose their jobs because of the cuts
Danny Alexander was photographed holding a draft copy of the Comprehensive Spending Review
Danny Alexander, the Chief Secretary to the Treasury, unwittingly disclosed the full scale of the expected redundancies when he was photographed yesterday reading confidential briefing papers.
The documents showed that the independent Office for Budget Responsibility is likely to forecast 500,000 public sector workers will lose their jobs because of the cuts, the biggest in public spending since the Second World War.
Tens of thousands of officials in departments across Whitehall will be offered redundancy in the coming weeks under Coalition plans to cut more than £80  billion in public spending over the next four years.
Public sector workers will also have a two-year pay freeze and be told that they face increased pension contributions from next year.
George Osborne, the Chancellor, will announce the outcome of the Government's Comprehensive Spending Review today. The document will set out plans to cut public spending over the next four years to reduce the black hole in the state finances. But experts have warned that further tax rises may still be needed because the cuts may not be enough.
The Daily Telegraph can also disclose that ministers are to announce more than £13 billion in welfare cuts today. In total, including cuts announced in the emergency Budget, the welfare bill will be reduced by about £25 billion over the next four years.
The reduction will be achieved by stripping hundreds of thousands of people of their incapacity benefit by introducing means testing. Those who are judged capable of eventually being able to return to some work will lose out if they have savings and investments worth more than £16,000. The move is expected to save more than £1.5 billion a year.
Ministers are also likely to tighten the eligibility criteria for tax credits, although details will not be finalised until next month. Mr Osborne will confirm that higher-rate taxpayers will lose child benefit from 2013. Negotiations were continuing last night on whether to scrap child benefit for those over 16. Mr Osborne is understood to have had a late "wobble" over the plan and is studying the proposal again. Winter fuel payments to the elderly will be maintained but, as ann¬ounced by the Labour government, will fall by £50 to £200 for the over-60s. Housing benefit payouts will be cut by £5 billion and the right to a council house for life will be scrapped.
Under the spending review, every government department – except health and international development – has had to find budget cuts of up to 40 per cent by 2015.
It is thought that the budgets of the Home Office and Justice Department will be particularly hard hit. Last night, a leaked memorandum disclosed that there are expected to be 14,000 job losses at the Justice Department. It said that the "front line will bear the brunt", with 9,940 redundancies in the prison and probation service. There is expected to be a reduction in the number of front-line police officers and fewer criminals will be sent to prison.
Transport projects – including the widening of roads – will be abandoned and rail fares are expected to rise by more than 8 per cent a year.
The impact of the cuts on jobs was in a confidential document for ministers that Mr Alexander was photographed reading. The "restricted" document said: "The OBR's [Office for Budget Responsibility] budget forecast was for a reduction in public sector workforce numbers of 490,000 by 2014-15.
"This is likely to change as a result of settlements agreed in the Spending Review but Govt expects the OBR's November forecast to be broadly in line with its budget forecast. It will be for each public sector employer to determine the workforce implications of spending settlements."
In the face of possible protests against the job losses, there are fears in the City that the Coalition may slow down the rate at which cuts are made. A study published today by the National Institute of Economic and Social Research will say the Government is "very unlikely to achieve the scale of cuts they are looking for".
Ray Barrell, acting director of the institute, said the Coalition would have to raise taxes by £1,200 for every worker over five years if the cuts could not deliver the savings. "Taxes will have to rise by the end of the Parliament," he said. "Plan B is simple. You put up income tax by 2 per cent of GDP."
http://www.telegraph.co.uk/news/newstopics/politics/liberaldemocrats/8074669/Danny-Alexander-reveals-500000-job-cuts-in-document-gaffe.html
Reino Unido: Danny Alexander, secretario de estado de Hacienda, revela que van a recortar 500.000 puestos de trabajo del sector público, al mostrar, sin darse cuenta, un documento oficial.
Según un informe oficial, medio millón de trabajadores públicos perderán su trabajo como consecuencia de la revisión global del gasto que el gobierno piensa llevar a cabo
Sin darse cuenta, el secretario de Estado de Hacienda, Danny Alexander, reveló todos los datos referentes a los ceses previstos cuando se le fotografió ayer leyendo el informe confidencial.
Los documentos revelan que es posible que la Oficina de Responsabilidad Presupuestaria tenga planes para despedir a 500.000 funcionarios, como resultado del mayor recorte del gasto público desde la segunda guerra mundial.
Durante las próximas semanas, se piensa proponer el despido a decenas de miles de funcionarios de los organismos gubernamentales de Whitehall, de acuerdo con los planes de la coalición para recortar el gasto público en 80 billones de libras durante los próximos cuatro años.
Además, se va a congelar el sueldo de los funcionarios durante dos años y van a tener que hacer una mayor aportación a su plan de pensiones a partir del próximo año.
El ministro Osborne va a anunciar hoy las ventajas de la Revisión Global del Gasto que el gobierno tiene previsto acometer. El informe establece las medidas que van a poner en marchar durante los próximos cuatro años para recortar el gasto público y reducir el agujero negro de las finanzas del Estado. Pero expertos en la materia han advertido de que, probablemente, van a ser necesarias nuevas subidas de impuestos porque los recortes no van a ser suficientes.
El Daily Telegraph también está en disposición de publicar que hoy mismo los ministros van a anunciar recortes en servicios sociales de 13 billones de libras. Si incluimos los recortes previstos en el Presupuesto de crisis, el gasto social se reducirá en 25 billones de libras durante los próximos cuatro años
http://www.casmadrid.org/index.php?idsecc=noticias&id=2168&titulo=NOTICIAS